Oooh, I really like making little person things! They work up SO fast! I just started this sweater and I have the back completed and now I've started the left front. This DK yarn (Patons Beehive Baby Sport) is a lovely soft yarn. Yeah, I know...acrylic but what new mother wants to have to wash stuff by hand? I actually want her to use the item so meh, it's acrylic. Well, it's actually 70% acrylic and 30% nylon.
Here's my progress thus far:
I was at Brenda's house knitting for a while and I said that I just realised I needed a button for this sweater. A few minutes later she disappeared for a while, I thought to change the laundry load but when she came back she had a big box of buttons. She has them all organised by colour! I thought I was the queen of AR when it comes to stuff like that! Awesome, she's just as bad as me :o)
I took a few different buttons and when the sweater is assembled, I'll see which one works best. Here are the ones we picked as possibilities for the sweater: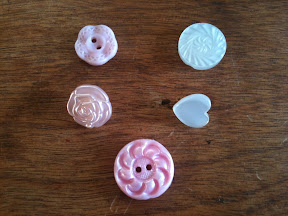 They're all very beautiful and I'm sure one will work.
The other night I finished my first Fleece Artist Sea Wool Sock that I was working on. It feels über nice! Here it is on my footy:
Yesterday I casted-on the second sock and got the top border done. I like to have a pair of socks on needles for traveling in the car. Socks are GREAT car projects.
Well, I think I'll go knit for a bit while I do some laundry and stuff. Have a great day!
BevKnits with your Daily Dose of Fibre
- Posted using BlogPress from my iPad