The Ear-Flaps have braids that extend below them. The pattern called for making flat stocking-stitch strips that you braid. I'm assuming that because it's stocking-stitch without some type of border, the strips would curl closed. So instead I decided to make i-cords.
I think the hat turned out pretty good. I'll be wearing it tomorrow!
I decided that I want to cast-on the Fleece Artist socks. After cruising around Ravelry for a while and taking some suggestions from Twitter peeps, I decided I'm going to do the pattern that came with the yarn.
The yarn is amazing! Look at this skein!!
It looks a lot different now that I've wound it into a ball.
The pattern calls for 3.0mm DPNs and look at my mess of DPNs...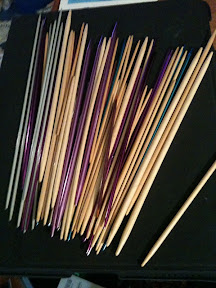 Can you believe I don't have ONE set of 3.0mm. I have 2.0, 2.25, 2.5, 2.75, 3.25, 3.75 and 4.0 in this group. I have other sizes in another case, they don't fit in the small box. But can you believe it?! Not one set. So the pattern has two sizes, 7 & 9. I'll make the size 9 with the 2.75mm needles and hope it's okay.
Well I'm off to cast-on the Sea Wool Bordello Socks pattern from Fleece Artist.
Fleece Artists Web Site: http://www.fleece artist.com
I bought this yarn at Camilla Valley Farms.
- Posted using BlogPress from my iPad