I was busy rearranging our house this week, that was the reason I was late on a couple of blogs but while I was moving stuff around, I discovered a project I did many years ago.
When I first had my kids, I was a big crafter. I'd do anything going. I crocheted for years, I tried macramé, ceramics, pottery, cross stitch, needlepoint, and of course, knitting. Back then in the mid 80s, there wasn't a lot of local places to buy yarn and supplies. We had Lewiscraft but they were limited in what you could get.
That's where Mary Maxim came in handy. I was working full-time and raising a family so I didn't have time to drive all over the place looking for supplies so I ordered kits through their mail order catalogue long before the Internet was around.
I wasn't very experienced in knitting and didn't know how to do any fancy stuff but I was able to get through a few projects. Unfortunately I don't have most of them nor do I have photos of them.
But what I did find when I was cleaning and rearranging this week was a vest I made for my eldest son who will be turning 25 in May. It's a horrible acrylic yarn but I think I did a fair job on it! I'd like to chart out the pattern and make another one now with good yarn and with the knitting knowledge that I have now! :o)
Here's some pictures that I took today of a vest made almost a quarter of a century ago.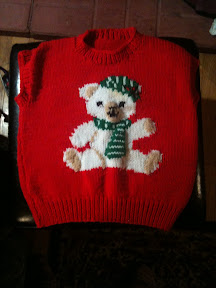 Well, I decided to head up the wooden hill early tonight with my knitting bag in hand and furry beasts in tow. The dogs are snoring away in here and I'm knitting a bit on my Fleece Artist sock. I love the feel of the yarn and I can't wait to wear it.
Have a good night everyone and happy knitting!
BevKnits with your Daily Dose of Fibre
- Posted using BlogPress from my iPad