I spent almost all day doing housework and laundry and did very little knitting. I did a few rows of the Fleece Artist sock but don't have much to report on there so I thought I'd show you some things I have made in the past.
Last year I gave in to the temptation and started to knit some toys. It's VERY addictive! The first pattern I did was of a little funny looking sheep. Then I did a giraffe and then I found Barbara Prime of Fuzzy Mitten and her patterns on Ravelry.
I LOVE her patterns. They are all so cute and reasonably priced. The only difference I did was I worked them all in the round and her patterns are all written to be worked in the flat and seamed together.
Here is Alice Alpaca in the purple heart sweater and Johnathan Livingston Lamb in the blue Filatura DiCrosa hoodie.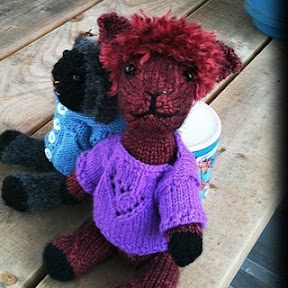 This is Harriet Hare in a Crofters DK Fair Isle Effects dress.
This is a pattern from Little Cotton Rabbits, called Oddment Hedgehog. Also available on Ravelry.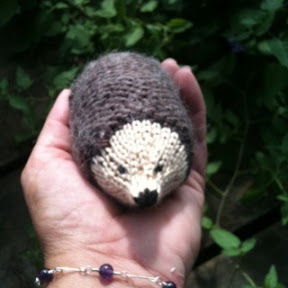 There are lots more toys that I've made and lots of different outfits and I'm going to get back into this soon but for now, I'm going to finish my sock. I'm going to relax for a bit and hit the hay early tonight so I can get the rest of the furniture moved around tomorrow.
Good night all.
BevKnits with your Daily Dose of Fibre.
- Posted using BlogPress from my iPad