If you know me, you know I don't need a lot of encouragement to head on over to Listowel on the quest for yarn.
My eldest son's lovely girlfriend, Becca, texted me on Saturday wondering if there were any nearby yarn shops to go to, she needed some bulky yarn to make this cowl pattern she found. It was 12:00 when she sent the text and the only nearby LYS closes at noon. I asked her if she wanted to go to Listowel to The Yarn Factory Outlet because it's open until 5:00pm on Saturday.
So off we headed on the quest for yarn. It was a very nice drive. Earlier in the day there wasn't a cloud in the sky but the sun was reflecting off the bright white snow. My eyes are very sensitive to the sunlight so I was quite happy that the sky had clouded over obscuring the sun.
The yarn that Becca picked out was the Kertzer Tweed Montage like I used on my Lofty Ear Flap Hat and Mitts but in a different colourway. She got the colourway that I have here waiting for a project.
After a short detour through the Timmie's drive-through for a mocha, we went back to their house (they live across the road from our farm) and she cast-on the 34 stitches on 8mm needles as required in her pattern. I let her do a few rows of stocking stitch and then I showed her how to do the cable required in her pattern. It was a 20 stitch cable so 10 on the cable needle! That's a big cable!
Becca is the young lady that learned to knit on her own and knit a dish cloth. She came to me and said she wanted to learn how to knit socks. I kinda said that the normal progression isn't Dishcloth-Sock, there's usually a few different projects in between but she wanted to. She picked it up SO FAST!! She did indeed knit a pair of socks! I was thoroughly impressed so I was quite confident that she would pick up cables easy-peasy (lemon squeezie).
Ya think?: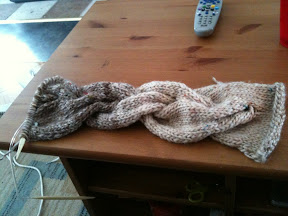 Becca is AWESOME! I can't wait to see the finished cowl.
I didn't get much knitting done today. After I left Becca and Mike's house, I went home, got my hubby up and we headed out for a nice supper with Brenda & Norm and Dan & Evelin. When we got home from there I made a cake for Ed's birthday which we plan to celebrate at Sunday Morning Breakfast Club.
Here's the cake before I put it into the cake carrier. It's a little tall so the very tips of the whipped cream got a little flattened but it wasn't bad at all.
It's a Black Forest cake. I used a packaged Devil's Food Cake mix for the base cake. Sprinkled liberally with Kirsch then assembled with real whipped cream and sweet pitted cherries that I get at a Mennonite market nearby. The chocolate on the outside is shaved milk chocolate. The cherries on the top are maraschino. I didn't use the sweet pitted cherries on top as they aren't as "pretty" as the maraschino ones.
I think an extra lap around the farm on the snowshoes is warranted this week! Need to burn off the extra calories in this puppy!!
Until later,
BevKnits with your Daily Dose of Fibre
- Posted using BlogPress from my iPad