For years I've wanted to learn to make socks but I was afraid of the very concept of working in the round on double pointed needles. My step mother would take ONE YEAR to finish a pair of worsted weight socks!!
So back in 2005 I decided that enough was enough! I wanted to learn to make socks. I bought a book (Patons #590, Pull Up Your Socks!) with patterns of socks and learned to make a pair of heavy worsted weight socks.
The very first pair I made with acrylic green yarn and I made them to fit my second son. Here they are on his feet:
The only thing I really couldn't learn from the text or the pictures was the Kitchener Stitch so the ends are just basically sewn shut. Thank goodness for
Knitting Help.com
, that's where I went to learn how graft the toe of a sock together and now I love to do it because she made it easy :o)
I then made myself a pair of acrylic heavy boot socks: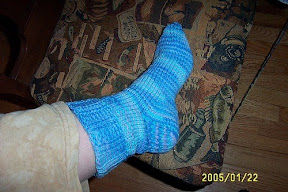 But as you know, acrylic is NOT warm and it wears very fast. But for my first two pairs of socks, this was fine yarn to use.
I bought a couple of balls of Patons SWS - Soy Wool Stripes in the Natural Plum colourway and made another pair of socks. I LOVED these socks until I accidentally put them in the washer with a load of something else and they got washed and felted before I noticed they were in there. Oh well, live and learn. SWS is 70% wool and 30% soy.
Here they are when I first finished them:
When Walmart was carrying more yarn, I found this neat self striping yarn. It was called Shaun Sheep Wool - and it was 100% wool. Unfortunately, right after I bought this yarn, they got out of all the specialty yarn and sell only Bernat and they're limited at that! If I want Bernat yarn, I'll go to the factory where it comes from!
Here's my Shaun Sheep Socks (and I made a hat to match)
Oh and yeah, I made that doily under the socks too. That was my crochet #10 cotton doily phase.
The next thing I found was the 4-ply fingering weight self-patterning and self-striping yarns! HELLO! I was hooked! I needed to buy new smaller double point needles but I was ready for it. I went out and bought a set of 2.75mm DPNs and a ball of Online Supersocke 100 seen here:
So I made these socks in 2006 I think and they are EXACTLY that same colour now after being washed hundreds of times. Most of the time I just hang them on the line in my laundry room after they come out of the washer but sometimes I just toss them in the dryer too. They DON'T shrink. The yarn is 75% superwash wool. Ya gotta love superwash!
I have made tons and tons of socks since these first few pairs but I just thought I'd give you a little of my background in knitting from time to time. Specially when I'm trying to get caught up a couple of days worth of blogs.
Until later,
BevKnits with your Daily Dose of Fibre
- Posted using BlogPress from my iPad