I didn't get much knitting done on Friday so I thought I'd show you all a blanket I made last summer. The pattern is Eyelet & Wavy Cables Blanket from Creative Knitting, March 2010.
I used a machine washable acrylic in a lovely blue.
Just a simple garter stitch border and then followed by this nice pattern. It's cables on one side and eyelets on the other so the blanket is reversible.
This is the eyelet side: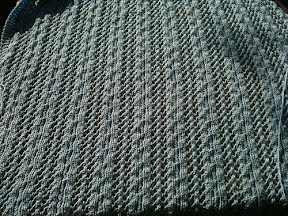 This is the cable side (my preference):
I think that if I were to make this same blanket, I wouldn't use the wavy cable. I would use only one and make a nice twisted cable. You can see where I made a mistake and did the same cable a couple of times.
Ahhhh, remember this weather??
I just went out and took this picture. I can't open that door because the snow is stack up against it so this is through the antique glass and then the screen door so sorry about the quality, but you get my point:
Until later,
BevKnits with your Daily Dose of Fibre
- Posted using BlogPress from my iPad